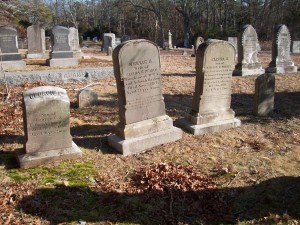 Ancestry:  Salathiel Henry Perry;  Achsah Perry;  Caleb Perry; Caleb Perry;  Elijah Perry;  John Perry;  Ezra Perry
Born: July 12, 1842 in Sandwich Ma.
Father: Salathiel Henry Perry; (1816 – 1882) (? & Achsah Perry)
Mother: Rebecca Freeman Hall; (1825 – 1903) (Freeman Hall & Rebecca Studley)
Died: October 21, 1870 at 28 yrs, 3 mos.; "Lost at sea" on the schooner "Compromise" off Georgia; Elisha's brother, Lucius Perry, also died on the "Compromise".
Buried: Pocasset Cemetery; area A (next to his wife Leonella/Nellie Barlow)
Occupation: Mariner
Married: December 9, 1866 in Sandwich Ma.
To: Leonella/Nellie Barlow, twin; (1845 – 1872) (William Allen Barlow, Capt. & Achsah Dimmick)
Children: Unknown